Mongolian Invasion II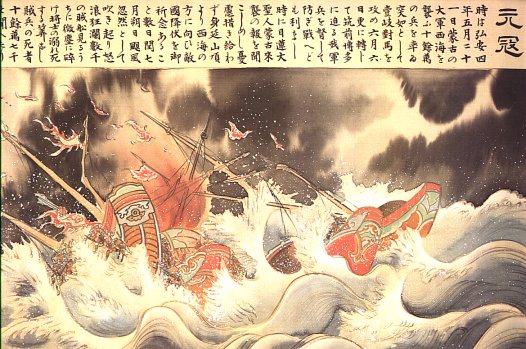 In the summer of the fourth year of Koan (1281), the Mongolian navy appeared again to Hakata bay with a heavy force 142,000 strong with 4,400 warships. Nichiren Daishonin warned the believers that they should not be pleased with the hit of the prediction on the national crisis.

On the first-July 27, they were going to attack the mainland. However, since they were destroyed completely by the typhoon on the second-July 1, they could not land at Japan where the Three Great Secret Treasures of Nam-myoho-renge-kyo had already been established by Him. If not for the typhoon, the history of Japan and Nichiren Shoshu must have been changed significantly.

In summary, Japan was not invaded by Mongolia, however, Kamakura Bakufu bacame weak remarkably because new land that must be given to the bushihood as the prize was not obtained by the defensive war. This made the trust to the feudalism lost and, as the result, the Kamakura Bakufu would go to ruin in 1333.

By the way, Heino Saemon and his all the family were made into the death penalty on suspicion of rebellion in the first year of Einin (1293) at his own yard where he had killed three believers of Nichiren Shoshu by the private trial.
---
<< Back << ********** ** Index ** ********** >> Next >>
---