Inheritance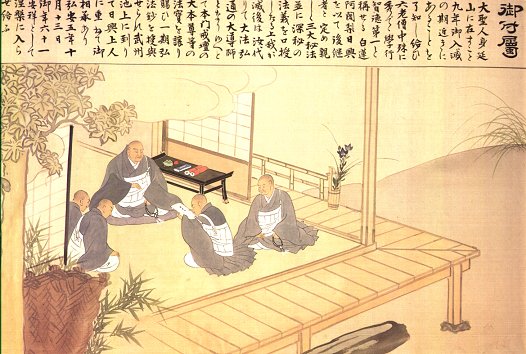 After the establishment of the Dai-gohonzon, the health of Nichiren Daishoshin was gradually failing. By continuation of repeated distress, the damage had been accumulated in His body.

In September of the fifth year of Koan (1282), Nichiren Daishonin wrote the first will called "The Lifetime Work Inheritance":

I will transfer my lifetime work to Byakuren-ajyari Nikko, who should be the next leader of Nam-myoho-renge-kyo. When the Emperor will adopt this mystic law as the pillar of the nation, the Kaidan of Honmon-ji Temple will have to be built at Mount Fuji. Wait the time, this is what the practicing canon is. And my priests and believers must keep this document forever.

By this will, the entire mystic low, especially the Dai-gohonzon, was succeeded by the second High Priest Nikko Shonin as if the water in a glass was transferred to another glass without spilling or remaining a drop. There were many senior priests other than Nikko Shonin, however, only Nikko Shonin who had been always serving Him, including two exiles, understood that Nichiren Daishonin was not mere a disciple Bodhisattva of Shakuson or Tendai Daishi but was the rebone of Original Buddha of Nam-myoho-renge-kyo Himself.

On Sep. 8, following the advice of disciples, Nichiren Daishonin started to Hitachi Hot Spring that was said to have good effects on assimilating organs diseases. This was the first time for Him to go out from Mount Minobu after the seclusion, and was the last time.
---
<< Back << ********** ** Index ** ********** >> Next >>
---