Verne Reynolds / Hardcover / Published 1997
Philip Farkas / Paperback / Published 1956

Gunther Schuller / paperback (2nd edition) / Published 1992
---
Jeremy Montagu / paperback / Published 1999



This book recounts the history and development of the French horn throughout its musical history. It describes the three main stages of its development: the hunting-horn type, blown with the bell in the air, as used by Bach and Handel; the hand horn, written for by Mozart, Haydn and Beehthoven, which is now being revived by many early-instrument orchestras; and the valve horn, familiar today, but which has gone through many stages since the early nineteenth century. It describes how horns are made and how they work. The book is illustrated with many photographs from the greatest collection of horns in Britain, initially formed by Reginald Morley-Pegge and presented as a memorial by his son to the Bate Collection in Oxford.



---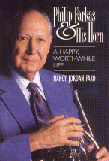 Philip Farkas & His Horn : A Happy Worthwhile Life
Nancy Jordan Fako / Hardcover (March 1998)

M. Dee Stewart / Hardcover / Published 1990

The man who defined symphonic horn playing, as seen through his writings and the comments of his students.
---
David Kaslow, Viola Roth (Editor) / Paperback / Published 1996

Mr. Kaslow's objectivity, his courage with his subject, and his enormous love for the horn are vividly expressed through the relationships between Man, his Horn, and the Universe.


Harold Meek, Alfred Mann (Editor) / Paperback / Published 1997
Books on Brass Instruments:
Anthony Baines / Paperback - reprint edition / Published 1993
Trevor Herbert (Editor), John Wallace (Editor) / Paperback / Published 1997 / Cambridge Univ Press
The Art of the Trumpet-Maker : The Materials, Tools, and Techniques of the Seventeenth and Eighteenth Centuries in Nuremberg (Early Music Series, No 1

Robert Barclay / Paperback / Published 1996

Jay D. Zorn / Paperback / Published 1995

A Physical Approach to Playing the Trumpet
Lynn K. Asper / Spiral-bound / Published 1999
Brian Frederiksen / Hardcover / Published 1997
M. Dee Stewart / Hardcover / Published 1987

The personal and pedagogical recollections of thirty-one of his colleagues, students, and friends.
R. Winston Morris / Hardcover / Published 1996
---