Horn Ensemble
Horn Trio | Horn Quartet | Horn Choir
Reicha 24 Trios for 3 Horns, Op 84

German Natural Horn Soloists with Wilhelm Bruns, Oliver Kersken, Christoph Moinian, Stefan Oetter, Tilman Schärf (hns)
---
Turner Quartet for 4 Horns no 3
Perkins Concerto for 4 Horns
Hindemith Sonata for 4 Horns
Bernstein West Side Story: Suite

American Horn Quartet (David Johnson, Charles Putnam,
Kerry Turner, Geoffrey Winter)
---
Tippett Divertimento on Sellinger's Round,
Little Music, Sonata for 4 Horns
Concerto for Double String Orchestra

Michael Thompson Horn Quartet
with Jeffrey Bryant, Hugh Seenan,
Michael Thompson, Richard Watkins (hns), ASMF / Sir Neville Marriner, et al.
---
Handel Music for the Royal Fireworks (Arranged by Leigh Martinet)
Anonymous Quartet No. 1 in E flat major
Bach Fugue in D minor (orig. G minor) (Arranged by Mexi)
Lütgen Quartet for 4 Horns in E flat major, Opus 19
Rossini Il barbiere di Siviglia: Overture (Arranged by Mexi)

Kogan Traditional Jewish songs (Arranged by Sándor Balogh)
Monti Csárdás
Pointer Shaky Flat Blues (Arranged by Liz Lester)
Trenet La Mer
Balogh Andrea
Ager Happy Boys

Budapest Festival Horn Quartet
(László Gál, Tibor Maruzsa, Miklós Nagy, László Rákos)
---
Christmas Favourites with Four Horns
Traditional Carol of the Bells
Deck the hall; Good King Wenceslas
God rest ye merry, gentlemen
What child is this?;
Lully, lulla, thow littel tyne child "Coventry Carol"
Holly and the ivy; I saw three ships
Wade Adeste fideles
Berlin Holiday Inn: White Christmas
Niles I wonder as I wander
Pierpont Jingle Bells
Coots Santa Claus is comin' to town
Gruber Silent Night
Styne Let It Snow!
Livingston Silver bells
Davis The Little Drummer Boy "Carol of the Drum"
Adam Minuit, Chrétiens "O holy night"
Shayne Do You Hear What I Hear?
Marks Rudolph the Red-Nosed Reindeer
Pacific Horns with Martin Hackleman, Steve Denroche,
Don Harder, Dawn Haylett, Greg McLean, Jeff Nelsen
---
Dragons in the Sky / Thomas Bacon
Schultz Dragons in the Sky
Leclaire Quartet for 4 Horns, Opus 22
Pinkston Quartet for 4 Horns with Tape
Gottschalk Section
Schultz T Rex

Thomas Bacon, William Caballero, Gregory Hustis, Erik Ralske (hns), et al.
---
---
Take 9

The American Horn Quartet, The Horns of the New York Philharmonic

---
Wagner: Fantasien für 8 Hörner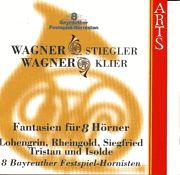 Lohengrin: Excerpt(s)
Siegfried: Excerpt(s)
Tristan und Isolde: Excerpt(s)
Das Rheingold: Excerpt(s)

8 Bayreuther Festspiel-Hornisten:
G. Seifert, M. Klier, S. Machata, K. Markowski,
B. Garbage, G. Fritzsche, K. Schneider, J. Schreder (hns)
---
Wagner: Transcriptions for Horns

Stiegler Lohengrin Fantasia
Jeurissen Tristan Fantasie
Hombusch Tannhäuser Fantasie
Fransman Parsifal Fantasie

German Horn Ensemble:
Norbert Dausacker, Stefan Dohr,
Xiao-Ming Han, Rainer Jurkiewicz,
Will Sanders, Georg Schreckenberger,
Gerda Sperlich, Horst Ziegler (hns)
---
Copyright © 2004 Cornissimo.com