Kaiten Group "Kikusui"
Submarine I-36, I-37 and I-47
The Sortie on November 8, 1944
---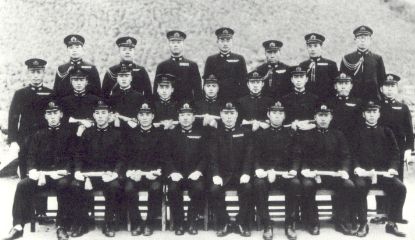 Commemorative Picture for the Sortie, Submarine I-36, 37 and 47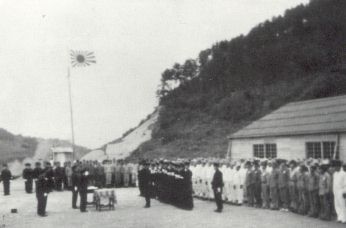 Sending-off ceremony, receiving short swords (at Otsu-shima Island on November 7, 1944)
Crews of Submarine I-36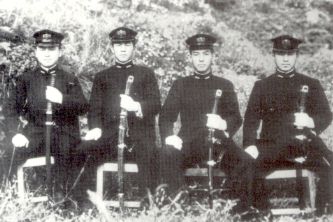 Kaiten pilots, Ensign Imanishi, Sub-lieutenant Toyozumi, Sub-lieutenant Yoshimoto and Ensign Kudo (From the left)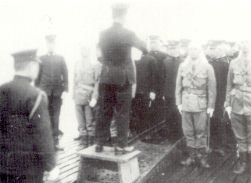 Chief Officer's address on the vessel.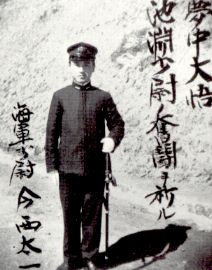 The picture of Ensign Taichi Imanishi with his own handwriting.
The Submarine I-36 attacked the northern part of the anchorage of enemy ships at the Ulithi Atoll on 20 November.
Ensign Taichi Imanishi (Keio University, Dept. of Economics) died in Kaiten mission. Other Kaitens were not launched due to disorder. Sub-lieutenant Yoshimoto, Sub-lieutenant Toyozumi and Ensign Kudo came back on 30 November.
---
Crews of Submarine I-37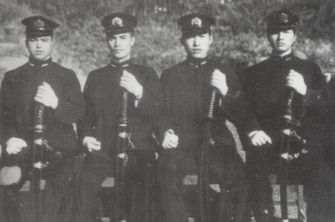 Kaiten pilots, Ensign Utsunomiya, Lieutenant Kamibeppu, Sub-lieutenant Murakami and Ensign Kondo (from the left) 
The Submarine I-37 proceeded Palau and Kossol Passage but was sunken by depthcharge from the destroyer escorts Conklin and McCoy Reynolds on 29 November.
The Submarine I-37 crews all died including Kaiten pilots, Ensign Hideichi Utsunomiya (The University of Tokyo, Dept. of Law), Lieutenant Yoshinori Kamibeppu (70th Naval Academy graduate), Sub-lieutenant Katsutomo Murakami (53rd Naval Engineering School graduate) and Ensign Kazuhiko Kondo.
Album left by Lieutenant Fujio Kawai
---
Next (Kaiten Group "Kikusui", Submarine I-47)