The Japanese record company imported the US edition. Then they added the Japanese booklet (it includes liner notes, Japanese translation of the original booklet & lyrics) and put the yellow sticker on it. It was sold as the Japanese edition.
Both versions include this 64 page Japanese booklet. All pages are in black and white. There is no picture.
Both booklets (for Super Duper Edition & Cigar Box) are quite the same.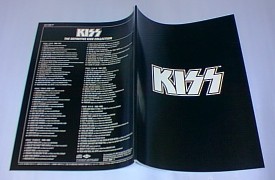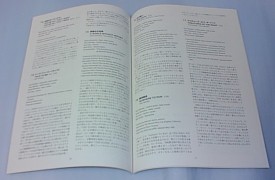 Track listing
This is taken from the flier for record stores. There are some mistakes on it but I don't correct at all.
For example, 95 songs are listed on this track listing but track No. 10 & 11 of disc 3 are the same. Disc 3 correctly includes 19 songs, so this set includes 94 songs.
Disc 1
1.
Strutter [ demo version ]
( Gene Simmons / Paul Stanley )
5:00
Recorded in Spring 1973 at Electric Lady Studios, New York, New York
Previously unreleased
2.
Deuce [ demo version ]
( Gene Simmons )
3:27
Recorded in Spring 1973 at Electric Lady Studios, New York, New York
Previously unreleased
3.
Keep Me Waiting [ Wicked Lester ]
( Paul Stanley )
3:24
Recorded November 14, 1971 at Electric Lady Studios, New York, New York
Taken from the unreleased WICKED LESTER album (1972)
4.
She [ Wicked Lester ]
( Gene Simmons / Steve Coronel )
3:08
Recorded November 14, 1971 at Electric Lady Studios, New York, New York
Taken from the unreleased WICKED LESTER album (1972)
5.
Love Her All I Can [ Wicked Lester ]
( Paul Stanley )
2:49
Recorded July 24, 1972 at Electric Lady Studios, New York, New York
Taken from the unreleased WICKED LESTER album (1972)
6.
Let Me Know [ demo version ]
( Paul Stanley )
3:30
Recorded October 1973 at Bell Sound Studios, New York, New York

7.
100,000 years [ demo version ]
( Gene Simmons / Paul Stanley )
5:45
Rocorded October 1973 at Bell Sound Studios, New York, New York

8.
Stop, Look To Listen [ demo ]
( Paul Stanley )
6:40
Recorded 1968 at Mayfair Recording Studios, New York City
Previously unreleased Paul Stanley demo
9.
Leeta [ demo ]
( Gene Simmons )
2:28
Recorded 1969 at Sanders Recording Studios, New York City
Previously unreleased Bullfrog Bheer demo featuring Gene Simmons
10.
Let Me Go, Rock 'N' Roll [ demo version ]
( Gene Simmons / Paul Stanley )
4:09
Recorded October 1973 at Bell Sound Studios, New York, New York
Engineered by Warren Dewey
11.
Acrobat [ live at The Daisy ]
( Gene Simmons / Ace Frehley )
6:53
Recorded August 25, 1973 at The Daisy, Amityville, Long Island, New York
Previously unreleased
12.
Firehouse [ demo version ]
( Paul Stanley )
4:10
Recorded October 1973 at Bell Sound Studios, New York

13.
Nothin' To Lose
( Gene Simmons )
3:27
Taken from KISS, released February 21, 1974

14.
Black Diamond
( Paul Stanley )
5:13
Taken from KISS, released February 21, 1974

15.
Hotter Than Hell
( Paul Stanley )
3:31
Taken from HOTTER THAN HELL, released October 22, 1974

16.
Strange Ways
( Ace Frehley )
3:18
Taken from HOTTER THAN HELL, released October 22, 1974

17.
Parasite
( Ace Frehley )
3:01
Taken from HOTTER THAN HELL, released October 22, 1974

18.
Goin' Blind
( Gene Simmons / Steve Coronel )
3:36
Taken from HOTTER THAN HELL, released October 22, 1974

19.
Anything For My Baby
( Paul Stanley )
2:35
Taken from DRESSED TO KILL, released March 19, 1975

20.
Ladies In Waiting
( Gene Simmons )
2:35
Taken from DRESSED TO KILL, released March 19, 1975

21.
Rock And Roll All Nite
( Gene Simmons / Paul Stanley )
2:49
Taken from DRESSED TO KILL, released March 19, 1975

Disc 2
1.
C'mon And Love Me [ live ]
( Paul Stanley )
2:52
Taken from ALIVE!, released September 10,1975

2.
Rock Bottom [ live ]
( Paul Stanley / Ace Frehley )
3:08
Taken from ALIVE!, released September 10,1975

3.
Cold Gin [ live ]
( Ace Frehley )
5:21
Taken from ALIVE!, released September 10,1975

4.
Watchin' You [ live ]
( Gene Simmons )
3:37
Taken from ALIVE!, released September 10,1975

5.
Doncha Hesitate [ demo ]
( Paul Stanley )
2:45
Previously unreleased

6.
Mad Dog [ demo ]
( Gene Simmons )
2:36
Previously unreleased demo for DESTROYER (1976)

7.
God Of Thunder [ demo version ]
2:58
Previously unreleased demo for DESTROYER

8.
Great Expectations
( Gene Simmons / Bob Ezrin )
4:24
Taken from DESTROYER, released March 15, 1976

9.
Beth
( Peter Criss / Stan Penridge / Bob Ezrin )
2:45
Taken from DESTROYER, released March 15, 1976

10.
Do You Love Me
( Kim Fowley / Bob Ezrin / Paul Stanley )
4:57
Taken from DESTROYER, released March 15, 1976

11.
Bad, Bad Lovin' [ demo ]
( Gene Simmons )
3:44
Previously unreleased

12.
Calling Dr. Love
( Gene Simmons )
3:44
Taken from ROCK AND ROLL OVER, released November 11, 1976

13.
Mr. Speed [ demo version ]
( Paul Stanley / Sean Delaney )
7:27
Previously unreleased demo for ROCK AND ROLL OVER

14.
Christine Sixteen
( Gene Simmons )
3:14
Taken from LOVE GUN, released June 30, 1977

15.
Hard Luck Woman
( Paul Stanley )
3:34
Taken from ROCK AND ROLL OVER, released November 11, 1976

16.
Shock Me
( Ace Frehley )
3:46
Taken from LOVE GUN, released June 30, 1977

17.
I Stole Your Love
( Paul Stanley )
3:04
Taken from LOVE GUN, released June 30, 1977

18.
I Want You [ soundcheck recording ]
( Paul Stanley )
3:43
Previously unreleased

19.
Love Gun [ demo version ]
( Paul Stanley )
3:37
Previously unreleased demo for LOVE GUN (1977)

20.
Love Is Blind [ demo ]
( Gene Simmons )
2:56
Gene Simmons - rhythm guitar, bass guitar, vocals
Produced by Gene Simmons
Previously unreleased Gene Simmons demo
Disc 3
1.
Detroit Rock City
( Paul Stanley / Bob Ezrin )
5:17
Taken from DESTROYER, released March 15, 1976
2.
King Of The Night Time World [ live ]
( Paul Stanley / Bob Ezrin / Mark Anthony / Kim Fowley )
3:05
Taken from ALIVE II, released November 29, 1977
3.
Larger Than Life
( Gene Simmons )
3:59
Taken from ALIVE II, released November 29, 1977
4.
Rocket Ride
( Ace Frehley / Sean Delaney )
4:07
Taken from ALIVE II, released November 29, 1977
5.
Tonight You Belong To Me
( Paul Stanley )
4:40
Taken from PAUL STANLEY, released September 1978
6.
New York Groove
( Russ Ballard )
3:03
Taken from ACE FREHLEY, released September 1978
7.
Radio Active [ demo version ]
( Gene Simmons )
3:12
Previously unreleased demo for GENE SIMMONS
8.
Don't You Let Me Down
( Peter Criss / Stan Penridge )
2:53
Taken from PETER CRISS, released September 1978
9.
I Was Made For Lovin' You
( Paul Stanley / Vincent Poncia / Desmond Child )
4:30
Taken from DYNASTY, released May 23, 1979
10.
Sure Know Something
( Paul Stanley / Vincent Poncia )
4:01
Taken from DYNASTY, released May 23, 1979
11.
Sure Know Something
( Paul Stanley / Vincent Poncia )
4:01
Taken from DYNASTY, released May 23, 1979
12.
Shandi
( Paul Stanley / Vincent Poncia )
3:36
Taken from UNMASKED, released May 1980
13.
You're All That I Want, You're All That I Need [ demo ]
( Gene Simmons )
4:31
Previously unreleased demo for UNMASKED
14.
Talk To Me [ live ]
( Ace Frehley )
2:35
Recorded live November 22, 1980 at Parreta Stadium, Sydney, Australia
Mixed by Richard Lush
Previously unreleased
15.
A World Without Heroes
( Gene Simmons / Paul Stanley / Bob Ezrin / Lou Reed )
2:40
Taken from (MUSIC FROM) THE ELDER, released in 1981
16.
The Oath
( Paul Stanley / Bob Ezrin / Tony Powers )
4:21
Taken from (MUSIC FROM) THE ELDER, released in 1981
17.
Nowhere To Run
( Paul Stanley )
4:22
Taken from KILLERS, released May 1982
18.
Creatures Of The Night
( Paul Stanley / Adam Mitchell )
4:03
Taken from CREATURES OF THE NIGHT, released October 1982
19.
War Machine
( Gene Simmons / Bryan Adams / Jim Vallance )
4:13
Taken from CREATURES OF THE NIGHT, released October 1982
20.
I Love It Loud
( Gene Simmons / Vincent Vincent )
4:15
Taken from CREATURES OF THE NIGHT, released October 1982
Disc 4
1.
Lick It Up
( Paul Stanley / Vinnie Vincent )
3:56
Taken from LICK IT UP, released October 1983
2.
All Hell's Breaking Loose
( Eric Carr / Paul Stanley / Gene Simmons / Vinnie Vincent )
4:34
Taken from LICK IT UP, released October 1983
3.
Heaven's On Fire
( Paul Stanley / Desmond Child )
3:20
Taken from ANIMALIZE, released October 1984
4.
Get All You Can Take
( Paul Stanley )
3:43
Taken from ANIMALIZE, released October 1984
5.
Thrills In The Night
( Paul Stanley / Jean Beauvoir )
4:21
Taken from ANIMALIZE, released October 1984
6.
Tears Are Falling
( Paul Stanley )
3:55
Taken from ASYLUM, released October 1985
7.
Uh! All Night
( Paul Stanley / Desmond Child / Jean Beauvoir )
4:03
Taken from ASYLUM, released October 1985
8.
Time Traveler [ demo ]
( Paul Stanley / Desmond Child )
5:00
9.
Hell Or High Water
( Gene Simmons / Bruce Kulick )
3:27
Taken from CRAZY NIGHTS, released September 1987
10.
Crazy, Crazy Nights
( Paul Stanley / Adam Mitchell )
3:47
Taken from CRAZY NIGHTS, released September 1987
11.
Reason To Live
( Paul Stanley / Desmond Child )
4:00
Taken from CRAZY NIGHTS, released September 1987
12.
Let's Put The X In Sex
( Paul Stanley / Desmond Child )
3:48
Taken from SMASHES, THRASHES & HITS, released December 1988
13.
Hide Your Heart
( Paul Stanley / Desmond Child / Holly Knight )
4:25
Taken from HOT IN THE SHADE, released November 1989
14.
Ain't That Peculiar [ demo ]
( Eric Carr )
3:15
Recorded Spring, 1989 at The Fortress, Hollywood, CA
Engineered by Pat Regan
15.
Silver Spoon
( Paul Stanley / Vini Poncia )
4:38
Taken from HOT IN THE SHADE, released November 1989
16.
Forever [ single version ]
( Paul Stanley / Michael Bolton )
3:52
Taken from HOT IN THE SHADE, released November 1989
Disc 5
1.
God Gave Rock 'N' Roll To You II
( Russ Ballard / Paul Stanley / Gene Simmons / Bob Ezrin )
5:18
Taken from REVENGE, released June 1992
2.
Unholy
( Gene Simmons / Vinnie Vincent )
3:40
Taken from REVENGE, released June 1992
3.
Domino [ demo version ]
( Gene Simmons )
4:10
Previously unreleased
4.
Every Time I Look At You
( Paul Stanley / Bob Ezrin )
4:38
Taken from REVENGE, released June 1992
5.
Comin' Home [ live Unplugged ]
( Paul Stanley / Ace Frehley )
2:21
Taken from UNPLUGGED, released in 1996
6.
Got To Choose [ live Unplugged ]
( Paul Stanley )
3:13
Taken from the vinyl version of UNPLUGGED, released in 1996
7.
I Still Love You [ live Unplugged ]
( Paul Stanley / Vincent Cusano )
6:09
Taken from UNPLUGGED, released in 1996
8.
Nothin' To Lose [ live Unplugged ]
( Gene Simmons )
3:42
Taken from UNPLUGGED, released in 1996
9.
Childhood's End
( Gene Simmons Tommy Thayer / Bruce Kulick )
5:30
Taken from CARNIVAL OF SOULS, released 1997
10.
I Will Be There
( Paul Stanley / Bruce Kulick / C.Cuomo )
3:49
Taken from CARNIVAL OF SOULS, released 1997
11.
Psycho Circus
( Paul Stanley / C.Cuomo )
5:30
Taken from PSYCHO CIRCUS, released 1998
12.
Into The Void
( Ace Frehley / Karl Cochran )
4:22
Taken from PSYCHO CIRCUS, released 1998
13.
Within
( Gene Simmons )
5:10
Taken from PSYCHO CIRCUS, released 1998
14.
I Pledge Allegiance To The State Of Rock & Roll
( Paul Stanley / Holly Knight / C.Cuomo )
3:32
Taken from PSYCHO CIRCUS, released 1998
15.
Nothing Can Keep Me From You
( Diane Warren )
4:05
Taken from DETROIT ROCK CITY soundtrack
16.
It's My Life [ original version ]
( Gene Simmons / Paul Stanley )
3:44
17.
Shout It Out Loud [ live ]
( Paul Stanley / Gene Simmons / Bob Ezrin )
3:39
Taken from GREATEST KISS, released in 1997
18.
Rock And Roll All Nite [ Alive IV ]
( Gene Simmons / Paul Stanley )
6:05
Recorded December 31, 1999 at Live at B.C. Place Stadium, Vancouver, British Columbia Canada