@
KAITEN SPECIAL ATTACK FORCES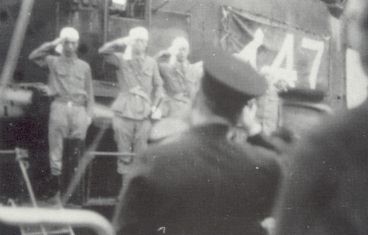 The Sortie of Kaiten Group "Kikusui"(Nov. 8, 1944)
"Words left by Sub-lieutenant Nishina (One of the inventors of Kaiten Special Attack, the second from the left above)"
"We (The will of Kaiten pilots) would lay the foundation for the further development of Japan. We won't die for nothing."
(Reference: The Will of Fujio Kawai, Commanding Officer of Kaiten Group "Hakuryu"
"As a foundation to a great reconstruction of the country...")
This site is devoted to young soldiers, those who died in the "Kaiten (manned torpedo which crashed into enemy ships) Mission" in order to protect their beloved country and people when the war situation had started to deteriorate at the last stage of the Pacific War.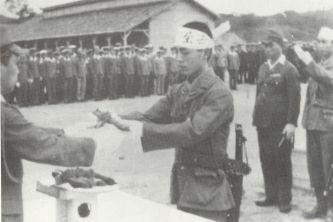 Ceremony for the sortie, Kaiten Group "Tamon" (July 18, 1944), Ensign Mizui, receiving a short sword
I sincerely hope this site would be of any help to make people know what did happen in Japan some 50 years ago (at the last stage of the Pacific War) - there were young soldiers who sacrificed their irreplaceable lives to protect the country and its people.@
Next
"Album left by Lieutenant Fujio Kawai"
(Commanding Officer of the Kaiten Group "Hakuryu")
Guest Book
Waiting for your comments
E-Mail
Contact me
*Related Sites*
USS Underhill DE-682
The U.S.S. Mississinewa AO-59
Combat Stories of World War II
"This American site attempts to show how each battle affected the participants from both sides and treats all combatants as patriots for their native land."
Japanese
---
Note
The producing and updating this site are assisted by the following people; Secretariat of Kaiten-kai (Kaiten Society), Toshiharu Konada, Chairperson of Kaiten-kai and others. Here, I would like to extend my sincere gratitude to them. All the images used here are reproduced from the album issued by Kaiten-kai by courtesy of Kaiten-kai. No part of this site may be reproduced in any form without permission.
Special Thanks to A.Iwaida
---
(All the excerpts and images used here are permitted.)
Translated by T.N. , M.Grace
@